The Ass Grommet from MEO® keeps your asshole wide open, guarantees extreme sensations and lastingly stretches your hole with clearly visible results. Being so exposed is just great!
Successful! After many tests and conversations with our customers, we were able to further optimise our very successful anal stretching rings! The Ass Grommet is an even better product for anal stretching and keeping your asshole permanently open.
No compromises! We have not made any compromises in the choice of materials. The Ass Grommet is made of particularly firm silicone with a silky-soft surface. It is hard enough to be inserted easily, guarantees very high wearing comfort and remains securely in place without slipping out.
For beginners and advanced users! Compared to other products for anal stretching, the Ass Grommet is perfect ANYONE who loves the topic of anal stretching. Whether you are a beginner or an advanced user, the Ass Grommet makes EVERYONE happy and ensures long-lasting, clearly visible results.
Benefits at a glance:
Many sizes available (from beginner to fuck slut)
Anatomically perfectly formed
Does not disturb while sleeping
Can be worn for extended periods
Optimal material for high wearing comfort
Does not slip out
Guarantees visible results in a short time
Easy to use: The velvety smooth surface makes it easy to insert into the anus and the special shape ensures a secure fit (it cannot slip out or get lost). Only this combination allows for a high level of comfort and clearly "visible results".

Designed in Germany! Available in different sizes, or as a complete set. Stretching rings are equipped with a continuous opening and can be used 24/7.

Our opinion: Feeling so "exposed" or "so open", is simply indescribable and the results can be seen after only a short time. Plus: High wearing comfort.
We have thought of everything! If desired, the Ass Grommet can be closed using a matching plug (separate accessory).
Sizes:
X-Small, for beginners
Small, for training
Medium, for advanced users
Large, for pros and very stretched fuck sluts
Other sizes will be available in the course of the year
Further details: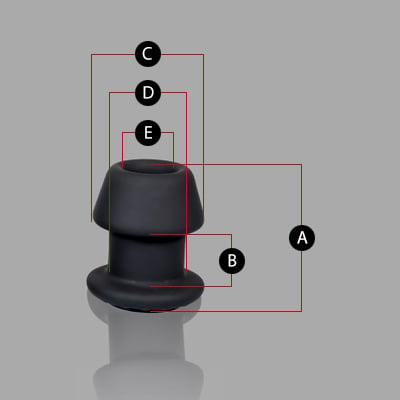 Dimensions size XS
A = 47 mm
B = 17 mm
C = 37 mm
D = 25 mm
E = 15 mm
Can be closed with plug in size XS (article 8631)
Dimensions size S
A = 57 mm
B = 20 mm
C = 47 mm
D = 30 mm
E = 20 mm
Can be closed with plug in size S (article 8631)
Dimensions size M
A = 66 mm
B = 23 mm
C = 54 mm
D = 37 mm
E = 20 mm
Can be closed with plug in size S (article 8631)
Dimensions size L
A = 80 mm
B = 30 mm
C = 64 mm
D = 45 mm
E = 25 mm